BETA CLUB INDUCTION CEREMONY
West Glades School Beta Club inducted their new members for the 2015-2016 school year. Janna Morrissey, the current President for Beta Club, welcomed all the guests who attended the event and spoke of the New Harvest theme for the Ceremony in which various members of the Beta Club recited a word which described Beta Club membership:
Honesty... Lauren O'Donnell
Achievement...Dylan White
Responsibility...Jatzime Morales-Hidalgo
Vision...Leyton Spencer
Enthusiasm. . .Jorden Perez
Sincerity. . . Miguel Coates
Tolerance…Sydney Battams.
Dylann White recited the Beta Club Pledge and Janna Morrissey confirmed the promises. Finally our Principal, Ms. Backes affirmed the new members.
*Ryley Bourdeau
Shelby Burtchaell
Mia Castano
**Miguel Coates
*Kaily Herrold
Lane Hingson
Taylor Martin
**Janna Morrissey
Lane Murray
**Jorden Perez
*Millye Santiago-Cruz
Leyton Spencer
Dylann White
*Alexander Willoughby
*Sydney Battams
Lillian Collier
Sadie Gaskins
Lauren O'Donnell
Sarah Sodrel
Walter Tindall
*Harley Collins
*Yahaira DeSantiago
*Thomas Gaskins
*Emmalee Langford
*Daniela Morado
*Jatzime Morales-Hidalgo
*Haylee O'Bannon
*Arely Ortiz
*Kylie Perra
*Logan Sanders
*Abigail Smallwood
*Michael Stanforth
*Makinna Turner
*Yaquelin Villeda-Erreguin
*Kaylee Wills
*Chancey Wright
*New Member
**2015-2016 Officer
Thank you to everyone who attended this event and we are proud to welcome our new Beta Club members!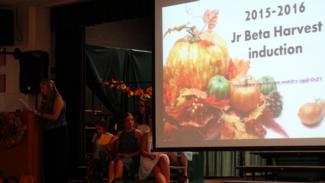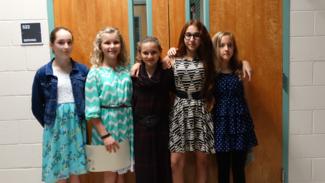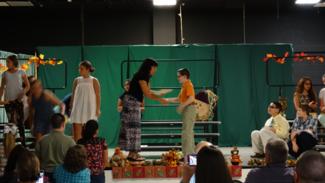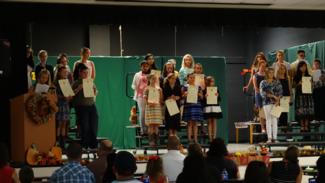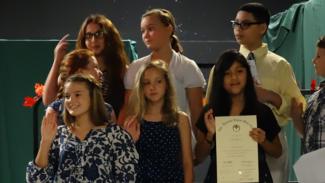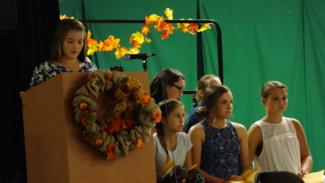 BETA CLUB
IT'S NOT FOR EVERYONE.
JUST THOSE WHO'D LIKE TO BECOME LEADERS.
Between the Junior Beta Club (grades 4-8) and Senior Beta Club (grades 9-12), the organization has helped nearly seven million students learn how to make a life for themselves—and, since 1991, it has awarded over $5 million in scholarships.
There are now more than 450,000 active members and more than 8,750 clubs nationally and internationally. It has become the nation's largest independent, non-profit, educational youth organization.
Although there are some universal requirements, each chapter has its own criteria for selection. Junior Beta is divided into two divisions: Division I includes grades 4-5 and Division II includes grades 6-8. Senior Beta includes grades 9-12. Regardless of division, though, members adhere to the Beta mission and learn to embrace and embody its four pillars.
Beta's mission originated with Dr. John W. Harris, a professor at Wofford College in Spartanburg, South Carolina, who founded the organization in 1934. Over 80 years have passed, but his vision and Beta's mission has remained the same. And most everyone who has been fortunate enough to be called a member has embraced those ideals and applied them to their own lives. From U.S. President Bill Clinton to current professional basketball player Kevin Durant, Beta members continue to lead long after their high school days are behind them.